Intellectual Property and Trade Secrets Online Training
Intellectual Property and Trade Secrets Online Training
At the heart of your business are the ideas, USPs, designs and inventions that are responsible for its success. Many of these fall under the banner of intellectual property or trade secrets. It's of the utmost importance that these are protected – both in the legal sense and by you and your team.
Intellectual property refers to creations of the mind – intangible assets - but with considerable value to your business. In commerce, these could include symbols, names and images.
Trade secrets are considered a form of intellectual property. Most commonly, this is a compilation of information (such as a pattern, formula or recipe) not generally known by others that give your business an advantage over competitors.
Many companies go to great lengths to protect their intellectual property or trade secrets. It can include requiring staff, contractors and supply chain businesses to sign non-disclosure agreements and restricting access to some business operations to selected individuals.
If you are sharing sensitive intellectual property or trade secrets with your team, it is essential they are provided with adequate training. Our intellectual property and trade secrets online training course demonstrates what constitutes a trade secret or intellectual property and how to protect them.
Who should take the Intellectual Property and Trade Secrets online training?
This course is recommended for all employees and contractors who would be given any access to or have any knowledge of a business' intellectual property or trade secrets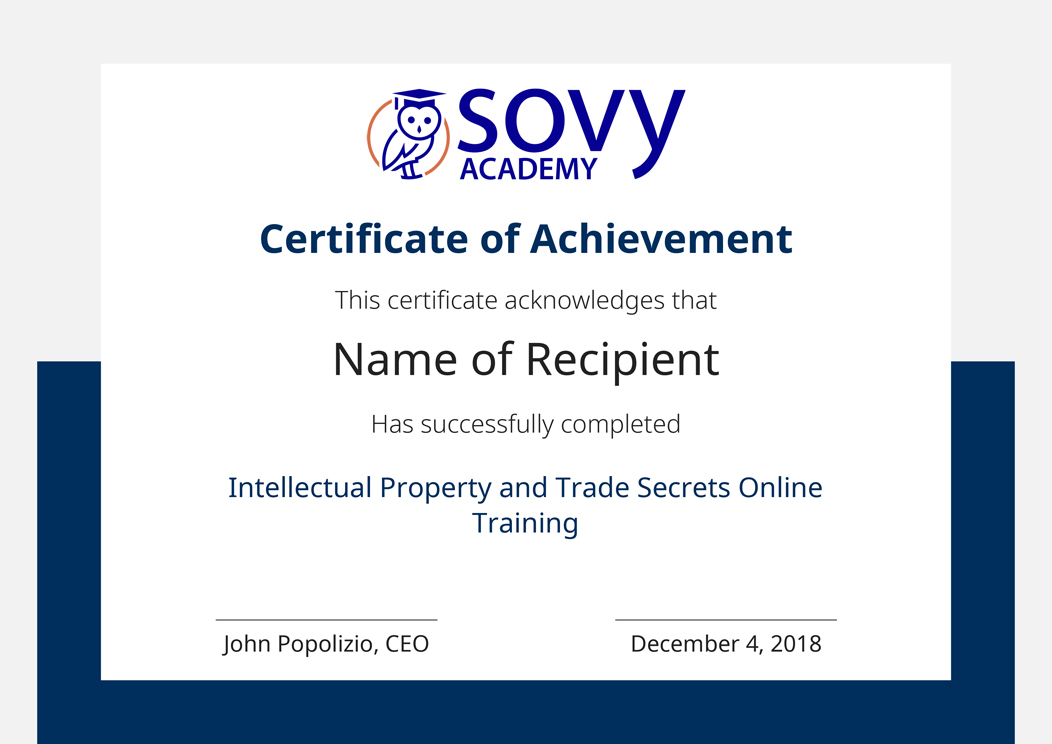 Intellectual Property and Trade Secrets Certificate
This course contains the following modules: