Behavior in the Workplace Bundle
Behavior in the Workplace Bundle
This bundle consists of four training courses, covering everything related to behavior and Ethics in the Workplace.
With this bundle your team will receive comprehensive training on the workplace behaviors expected of them. From understanding what constitutes harassment and discrimination, to how to behave in a respectful and ethical way, our courses will help you foster a friendly, professional and respectful working environment.
Our courses will teach your team how to: 
Identify, report and prevent harassment and discrimination.
Create a safe, respectful and enjoyable working environment.
Manage disagreements in a professional manner.

 

Behave in a way that represents the company in the best light, both inside and outside of work.

 
What are the business benefits of this training? 
Create a friendly, respectful and professional working environment to attract and retain diverse talent.
Increase productivity and creativity in the workplace.
Mitigate the risk of harassment and discrimination in the workplace.

Protect your business from the legal implications of harassment and discrimination occurring in the workplace (dependent on your local legislation).
Why take a Sovy AcademySM course?
Mobile-ready eLearning solution for on-the-go training

 

Available in a range of languages

 

Written by experts

 

Trusted by Fortune 500 companies globally

 

Tracks, saves and reports progress

 

Receive certificates on completion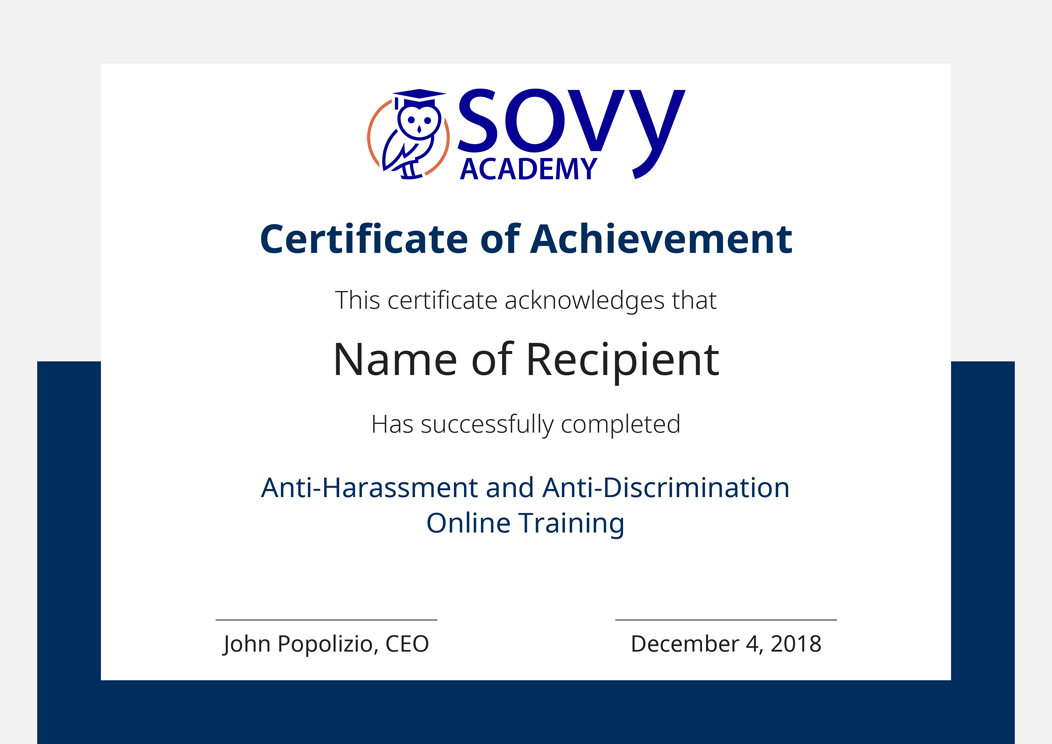 Anti-Harassment and Anti-Discrimination Certificate
Big savings with our 4 course bundles.*
*Compared to purchasing courses individually at full price